Updated September 12, 2021
Dear Guests (past, present & future),
As of today, September 12, 2021, Maine has seen a significant increase in Covid cases due to the Delta variant. There have not been any new travel restrictions implemented, however, several business are recommending a return to masking in indoor settings. Acadia National Park also has returned to mask wearing in all indoor settings as well.
On March 5th, the Governor announced Moving Forward Maine, which provides clear, predictable guidance for Maine people, business and visitors to plan for the summer and further establishes Maine as a safe place to visit. As of May 1st, all visitors from all states were made exempt from travel restrictions. If one or more states see a spike in cases of highly contagious COVID-19 variants, Maine will apply its test or quarantine requirement to travelers to and from that state. We will note that information here if it happens.
Following a review by the Maine Department of Health and Human Services and the Maine Center for Disease Control and Prevention, Governor Janet Mills announced on May 14th that the State of Maine will adopt the U.S. Centers for Disease Control and Prevention's (U.S. CDC) new guidance which allows fully vaccinated Americans not to wear face coverings indoors, effective May 24, 2021. Maine will also lift the physical distancing requirement at indoor public settings where people are eating or drinking and therefore would be removing their face covering – such as indoor restaurants, bars, dining areas in camps or in congregate living facilities, and break rooms. Consistent with the U.S. CDC's guidelines, it is recommended that people in Maine who are not fully vaccinated wear face coverings in indoor public settings. The U.S. CDC requires people to wear masks on all planes, buses, trains, and other forms of public transportation.
Your innkeepers, Matt and Kristi, their children and both of our housekeepers are fully vaccinated.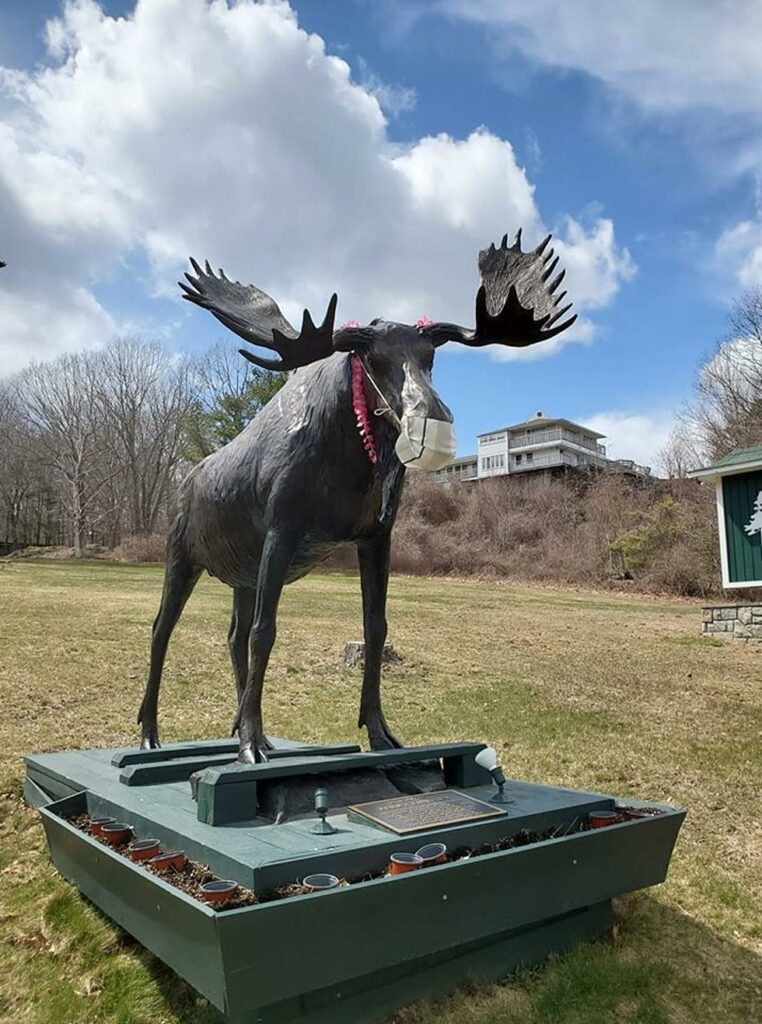 Breakfast Serving:
Over the last 15 years, breakfast has become not only a meal, but a chance for us to socialize with our guests. We look forward to this opportunity every morning, and we will continue to serve our guests individually prepared meals. The only people that will have contact with your breakfast meal are you and your innkeeper.
Breakfast is served from 8:00 until 9:30 am on the rear deck of the inn. We also have three private tables in the sunroom as well as the dining room table for indoor dining. We also allow guests to pick up a breakfast tray to have in their room if you prefer.
Lunch & Dinner:
There are several restaurants open in Bar Harbor, some offering full indoor and outdoor dining, some only for take-out or curb-side delivery, and others with limited dine in seating. While we have always encouraged our guests to utilize our dining tables for more than just breakfast, now we would like to make it official. Whether for a sandwich, a pizza, wine & cheese, or a game of Scrabble, the common areas of the inn are available to you 24/7. If you would like to bring your lunch or dinner back to the inn, we would be happy to provide you with plates, glasses, utensils, and a waterfront table to enjoy your meal. As mentioned above, we have space for five couples to socially distance inside and six separate tables outside overlooking the Bay.
Housekeeping:
As clean and welcoming as our guest rooms already are, our housekeeper is taking extra steps to disinfect touch surfaces throughout the room to include TV and fireplace remotes, door and drawer handles, light switches, and bathroom fixtures. As our guests check out, all linens will be washed including blankets and comforters. We have removed extraneous decorative items, including alarm clocks. Clocks and DVD players will be provided if needed. Hair dryers are still provided in the bathroom.
During your stay, daily housekeeping will be performed by request only. If you'd like your room refreshed, you may hang the "Please make up my room" door hanger on the outside of your door by 11 a.m. Without a request, no one will enter your room during your stay. You may request new towels or other amenities anytime during your stay.
The common rooms of the inn will also be cleaned several times per day including the disinfecting of door knobs, switches, coffee and water dispensers, etc… We have provided hand sanitizer in public areas for guests to use. At this time, we do allow guests to use the water cooler and coffee/tea station which are sanitized frequently.
We are continuing to monitor cleaning trends as well as following the direction of the Maine CDC. We will update this document as practices evolve and change.
Check In Procedures:
In order to ensure that guest rooms and the common rooms are cleaned to the highest standards, check in will be between 3:00pm – 6:00 pm. We may not be able to accommodate early check ins, so please call in advance. In order to maintain our sanitation procedures, Guest rooms will be closed when our housekeeper has finished cleaning. Arrangements for late arrivals may be made in advance.
Fully vaccinated guests are not required to wear masks but are certainly welcome to per their own comfort. The CDC recommends unvaccinated individuals continue to wear masks indoors. Guests will not be required to wear masks while seated at the private dining tables inside or outside. We hope that all of our guests will continue to respect the comfort level of others around them and maintain proper distancing if needed. Matt and Kristi will continue to evaluate COVID conditions and reserve the right to implement indoor mask wearing at any time.
Acadia National Park News:
Acadia National Park is fully open at this time. Masks are required in all indoor settings. The carriage roads are open for walkers and bikers. Please check the Acadia National Park website for special announcements and closures.
We're looking forward to seeing you soon!
Your innkeepers,
Matt and Kristi